THIS GIVEAWAY CLOSED JUNE 30, 2020!
Enter To Win A Set Of Istanbul Cymbals And Other Prizes! Co-sponsored by DrumSellers.com and the DrummerNation family of podcasts.

Here's your chance to win some bronze from Istanbul Mehmet, the original handmade cymbals from Turkey. The prize includes three Shiny BlackBell Cymbals, a giant 23" ride, powerful 18" crash, and oversized 15" hi-hats. The Black Bell line features two sonic personalities in one cymbal: the black, unlathed bell produces a metallic, dark fundamental tone, while the lathed and hand-hammered bow of the cymbal pumps out brassy, ballsy, and bright sounds. It's a punchy pairing. One minute the cymbal can be loud and dark, the next bright and ballsy, but capable of restraint when needed.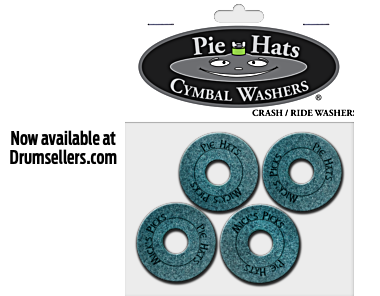 Six Second Prizes: We're also giving away six sets of Mick's Pie Hats. Felts have been around for sixty years, but Mick's knew a better answer could be found in their Flextex material. It's a proprietary composite with high density for stabilizing and isolating cymbals. See, hear, and feel the difference with Pie Hats.
Please fill out the optional survey and enter today. We do not sell your information.
[os-widget path="/phil-hood/istanbul-mehmet-shiny-black-bell-giveaway-survey"]
Fine print: The colors and components in the prize picture are not always an exact representation. Please refer to prize list for details.
Deadline To Enter: June 30, 2020
Official Rules: No purchase necessary. All entries must be sent by June 28, 2020. The drawing will be held June 1, 2020. The promotion is not open to employees or partners of participating companies. The odds of winning depend on the number of entries received.
Winner releases Istanbul Mehmet and participating firms and their affiliates, officers, agents, and employees from any liability in connection with any loss incurred in connection with the use of these prizes. The products of Istanbul Mehmet and Mick's Picks represent promotional prizes only. Offer void where prohibited by law, and subject to all applicable federal, state, and local regulations. Taxes are the sole responsibility of the winner.